Activities
Creative games & Braintraining
Tools & Machines
Kategorien 5
You do not have any products in your shopping cart yet.
More about...
Our previous price CHF 358.00
Now only CHF 257.50
you save 28 % /CHF 100.50
7.7 % VAT incl. excl. Shipping costs
Japonica Ikebana vases
Ikebana, also called Kadō – Way of the Flower – is an art form developed in Japan and, in addition to the tea ceremony, calligraphy and wearing the kimono, it belongs to the traditional Japanese arts. Ikebana was originally developed for flower offerings and was initially reserved exclusively for men. Later, the women of the nobility were also taught in it. Today, this art is spread all over the world and is considered by many as a creative hobby to arrange flowers stylishly and festively.
Ikebana is not just about making a floral arrangement look beautiful. The basic concept of Ikebana is the connection between heaven, earth and people. The flower arrangements follow a different aesthetic than we are used to.
Ikebana gives the creator the opportunity to express himself.
The artist works according to a special design pattern, which differs, among other things, according to one of the numerous masters and by season. Colour combinations, shapes, lines and meanings of the plant material play a role here.
Through the arrangement, the artist represents his relationship to nature, but also the feelings that move him when designing the flower arrangement.
Although the arrangement of the flowers follows fixed rules, so by selecting and arranging the flowers and other plant material, a separate interpretation can be created.
The Japonica vase was designed according to the millennia-old principles of Ikebana. This vase emphasizes the natural beauty of the flowers and plants and at the same time stimulates the creativity of its owner.
Thanks to its simple shapes, the Japonica fits into any room. There are no limits to the creativity when arranging the flowers, and no previous knowledge is required to create original decorations with this vase.
While it is often difficult to arrange a bouquet in such a way that it can unfold its effect, or to position a single flower so that its full beauty comes to the fore, with Japonica this succeeds much better.
You simply cut the stem of the flower straight and put it on the cutting head of the japonica. The flowers stand upright and in the way you want them, even grasses can be inserted this way.
The fact that the flowers do not stand with a large part of the shaft in the water, like in a conventional vase, can also foster a longer shelf life. The flower only absorbs as much water as it really needs through the shaft
The Japonica can be washed by hand, the plug head is best cleaned with a dishwasher brush.
| | |
| --- | --- |
| Show 1 to 4 (of in total 4 products) | Sites: 1 |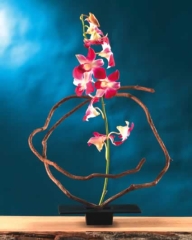 Our previous price CHF 35.00
Now only CHF 28.00
you save 20 % /CHF 7.00
7.7 % VAT incl. excl. Shipping costs
Our previous price CHF 39.00
Now only CHF 29.90
you save 23 % /CHF 9.10
7.7 % VAT incl. excl. Shipping costs
Our previous price CHF 39.00
Now only CHF 29.90
you save 23 % /CHF 9.10
7.7 % VAT incl. excl. Shipping costs
Our previous price CHF 45.00
Now only CHF 36.00
you save 20 % /CHF 9.00
7.7 % VAT incl. excl. Shipping costs
| | |
| --- | --- |
| Show 1 to 4 (of in total 4 products) | Sites: 1 |